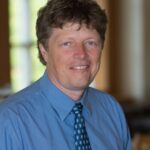 Brent J. Bell
is a professor of Outdoor Leadership & Management (University of New Hampshire) and researcher of outdoor orientation programs. He grew up skiing in Lebanon, N.H. Prior to joining the UNH faculty, Brent directed the First-Year Outdoor Program (FOP) at Harvard University, worked with therapeutic adventure programs (i.e., Santa Fe Mountain Center) and was a program director for an adventure travel company (the Biking Expedition). In 1991, Brent developed the Adventure Bound program at New England College in Henniker, N.H. He was a member of the Association for Experiential Education's Northeast Advisory Board (1996-2007) and currently serves on AEE's accreditation council (2016 to present). Brent is co-author, along with Bob Baird and Drew Leemon, of the 'Guide to Managing Risks in Wilderness Education,' published by United Educators. Brent is a Nationally Registered Emergency Medical Technician (since 1988), former member of the Henniker Rescue Squad (1993-2000) and National Ski Patrol (1980-2005). Beyond teaching and research at UNH, Brent directs the Outdoor Orientation Program Symposium (OOPS) (2004-present).
Allan R. Clark
is the Fire Chief of Sugar Hill, NH and the founder of the Pemigewasset Valley Search & Rescue Team the largest volunteer S & R group in the State. Chief Clark serves on the NH Board of Fire Control and is the chair of a committee formed by Commissioner Barthelmes, Department of Safety, to coordinate the creation of a NH Fire Academy Training Facility in the North Country. Chief Clark is the founder and President of the North Country Public Safety Officer's Foundation which was formed to assist families and public safety officers in the North Country during their times of need. The Foundation is responsible for distributing over $1,000,000 in the 9 years that it has been in existence. Allan serves on the Franconia Life Squad as an EMT and is a member of the Cannon Mountain Professional Ski Patrol. Allan has been involved with helping others in their time of need for over 40 years. He lives with his wife Gail in Sugar Hill looking at the Franconia Ridge.
---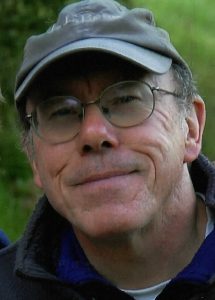 Peter Crane
is the Curator of the Mount Washington Observatory's Gladys Brooks Memorial Library. He previously served as Director of Educational Programs for the Observatory. He has lived in the White Mountains for more than forty-five years, and served the U.S. Forest Service and the Appalachian Mountain Club in resource management, public information, and educational roles before coming to work for the Observatory. He is an avid year-round hiker, and has hiked extensively in New England, as well as in several western states and in Europe. He has been a volunteer trail maintainer for the Appalachian Mountain Club for more than thirty years; he is also a Leave No Trace trainer. He served as an EMT on Androscoggin Valley Search and Rescue (AVSAR) before retiring from that team, which then voted him an Honorary Member.
---
Mary Goodyear
is a wildlife educator for the New Hampshire Fish and Game Department. She serves as the State's Project WILD coordinator, and is involved in the Fish and Wildlife Stewards Program. She is also active in the National Association for Interpretation. Her background includes educational activities as a Program Specialist for the New Hampshire Division of Parks and Recreation.
---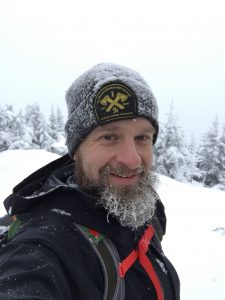 Patrick Hummel
is the Park Manager of Mount Washington State Park. Starting employment with the New Hampshire Division of Parks and Recreation in 2001, Hummel served previously as the Park Manager of Monadnock State Park, which included a heavy focus on back country search and rescue. Hummel also managed the Volunteer Program for New Hampshire State Parks and the Division of Forests & Lands. He is an avid year-round hiker, photographer, and traveler.
---
Scott M. Gordon
has been an avid year-round hiker in the White Mountains since the 1990s. Over that time, he has hiked the New England Hundred Highest, the White Mountain Four Thousand Footers in winter, thru hiked the Appalachian Trail, and run numerous endurance races including the Mount Washington Road Race and Pikes Peak Marathon. While on the AT, Scott collected 225 water samples which were analyzed for six water quality standards. Additionally, he has had his stories published in AMC Outdoors among other periodicals. Scott served as the trail adopter for the Ammonoosuc Ravine Trail for seven years and is trained as a wilderness first responder (WFR). He is a former college tennis player, team MVP, and student athlete of the year. A science educator of over twenty years in a variety of roles, Scott has served as the Science Department Chair at Lynnfield High School in Massachusetts since 2005. While in education, he has brought in close to $900,000 in grant money and was honored with the 2011 Mass Recycle Silver Award for his impact to recycling and waste reduction in Massachusetts schools. Scott and his daughter live in Dover, NH and vacation on the cold side of Mount Adams in Randolph.
---
Diane Holmes
is a lifelong resident of northern New Hampshire. She has spent her working and recreating life in the White Mountains and Androscoggin Valley watershed enjoying hiking, skiing, show shoeing, kayaking, camping, and wildlife watching. She enjoyed a career with New Hampshire State Parks and Recreation for over 28 years, holding management positions within the division that included Community Recreation Specialist and in New Hampshire's unique and treasured gems of Mt. Washington and North Region State Parks, along with many snow filled seasons as a professional ski patroller at Cannon Mountain, Franconia Notch State Park. She is a volunteer and founding member of Androscoggin Valley Search and Rescue, and a Nationally Registered Advanced Emergency Medical Technician for the Town of Gorham, Emergency Medical Services.
---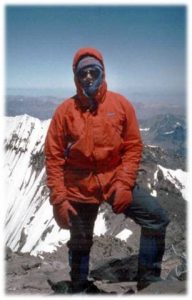 Bill Kane
is the Founder and Director of The Kane Schools of Rescue Medicine, has taught wilderness medicine and rescue since the mid-1970s. Beginning in 1976 Bill managed and eventually became a partner at IME, in North Conway, a climbing shop, climbing school, and guide service. He is the last founding member of the NHOC still serving as a Trustee and Board member. He is also a founding member and former president of the Climbing Sports Group and a former director of Outdoor Industries Association. He became a member of Mountain Rescue Service in 1976 for almost 25 years, and was a team leader and director of that organization for 17 years. Bill is an Advanced EMT (has been an EMS provider since 1976) and is a licensed EMS Instructor/Coordinator in both NH and ME. He has been a member of Fryeburg (ME) Rescue since 1978 (former Chief, current BOD), a member of the Western Maine Disaster Planning Team, and a member of the New Hampshire EMS Advisory Cabinet. Bill has had the opportunity to climb and guide on five continents, competed in hundreds of endurance events for decades, and occasionally still competes.
---
Lieutenant James Kneeland
is a Conservation Officer Supervisor for the Law Enforcement Division of the New Hampshire Fish and Game Department. Lt. Kneeland began his career with the NH Fish and Game Department in 1992 and has been involved in as well as directed search and rescue responses and management throughout the state. As the District Three Chief, Lt. Kneeland supervises an area, which includes all of Grafton and much of Sullivan County to include the Kinsman, Franconia and Twin Ranges of the White Mountains and the western portion of the Lakes Region. Lt. Kneeland also currently serves as the State Search and Rescue Coordinator, hikeSafe Program Coordinator, Assistant Dive Master for the NH Fish and Game Department's Dive Team and is the NH Fish and Game Department's Specialized Search and Rescue Team Leader.
---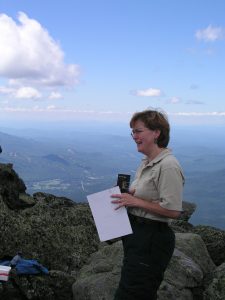 Marianne Leberman
is the Recreation and Wilderness Program Leader for the White Mountain National Forest (WMNF), U.S. Forest Service. The WMNF is the largest area of publicly owned land in New England, a place where people come to connect with their natural and cultural heritage, and she is honored to be charged with the recreation management on this special piece of ground. Prior to this position she spent 12 years as a snow ranger at the Mount Washington Avalanche Center and managing developed recreation and special uses on the Androscoggin Ranger District. Marianne manages the hikeSafe program in conjunction with her NHF&G counterpart. Outside of work you can find her at her kids' activities, in her gardens or exploring the woods – looking for that next hiking adventure.
---
Jeff Leich
is Executive Director of New England Ski Museum in Franconia Notch, NH. A White Mountain hiker and skier since the early 1960s, his career has included stints as an AMC hutman, park ranger on Mount Washington, and ski patrol director at Wildcat. He was a member of the Mt. Washington Volunteer Ski Patrol and Androscoggin Valley Search and Rescue, is a member of North American Snowsports Journalists Association, and author of two books, Over the Headwall: The Ski History of Tuckerman Ravine and Tales of the 10th: The Mountain Troops and American Skiing.
---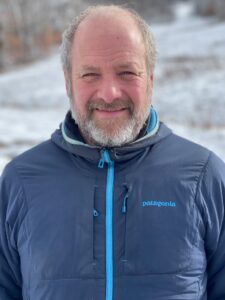 Chris Thayer
is the Appalachian Mountain Club's (AMC) Director of External Affairs and Contracts, responsible for developing and maintaining productive state and federal partnerships that provide the foundation for delivering high quality public services. A long-time resident of the North Country, Chris has worked for AMC in the region for 30+ years in a variety of capacities, including roadside and backcountry seasonal positions as well as management positions overseeing core AMC outdoor center and outdoor programming operations. As a senior staff member, Chris serves as a key representative for the organization among a variety of constituencies across AMC's entire region, including state and federal agencies, non-profit partners, regional tourism and economic development entities, elected officials, and other opinion leaders. Chris serves on a variety of volunteer boards and committees including the NH Charitable Foundation, Ammonoosuc Conservation Trust, and Northern Forest Center. He is a former Sugar Hill Planning Board and Lafayette Regional School board member and a 2013 graduate of Leadership NH. A year-round hiker and skier certified in Wilderness First Aid and as a Leave No Trace Master Educator, he lives in Sugar Hill with his wife and two boys where they enjoy the outdoors and surrounding community assets.
---
John E. (Jed) Williamson
is President Emeritus of Sterling College in Vermont, and is a practitioner and consultant in education and outdoor pursuits, including over 70 safety and quality reviews and accident investigations. Jed co-authored the Association for Experiential Education's Manual of Accreditation Standards for Adventure Programs. He was a faculty member at the University of New Hampshire from 1973 to 1982. Jed's Outward Bound part-time and full-time work from 1966-84 ranged from Instructor, Program Director, and School Director for several U.S. schools. He was on the board of the American Alpine Club from 1974 to 1998 – President from 1992-94 and Secretary from 1994-98, elected to Honorary Membership in 2007. Jed served as editor of the American Alpine Club's annual report "Accidents in North American Mountaineering" from 1974-2014. He has served on several other boards, including those of NOLS and WRMC. His avocations include skiing and climbing, which he has done for decades. His climbing expeditions have taken him to the top of North America (twice), to Mount Everest, and to mountain ranges worldwide.